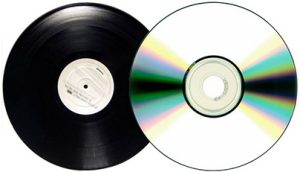 The Spirituals Database offers searchable access to recorded track information for concert Negro Spiritual settings performed by solo Classical vocalists. The resource contains a selection from a century of historic and contemporary concert spiritual recordings produced on compact discs, long-playing (33 1/3 rpm) albums, 78 rpm records, 45 rpm discs, audio cassettes and streamed audio files, as well as demonstration recordings from musical score collections. Additionally, the site offers a number of historical, biographical and bibliographical resources related to this African American music style. There are also links to images, videos and artistic creations inspired by the Negro spiritual.
Begin searching The Spirituals Database from the simple keyword search box or the advanced search link below:
Information about advanced search features is available on the How to Search page.
——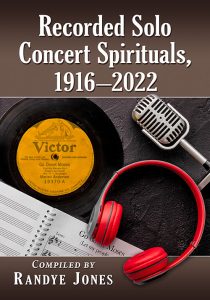 Major Changes to The Spirituals Database
I developed The Spirituals Database in 2015 in order to share research on recordings of concert spirituals for solo vocalists. Even then, however, my eventual goal was to see the results of that research become a printed resource. McFarland and Co. has agreed to publish the book, entitled Recorded Solo Concert Spirituals, 1916-2022, which is set to be available May 18, 2023. One proviso, however, was that some of the free content that I offered on The Spirituals Database could no longer be available for public access. While this affects the amount of individual track content available here, other information such as images and links to video and audio content will continue to display along with the reduced content. Also, this doesn't affect Divaslair–that's me, BTW–videos, slide presentations, or essays posted on The Spirituals Database.
While The Spirituals Database serves as a companion to Recorded Solo Concert Spirituals, 1916-2022, each is intended to function independently. Thus, each resource can function without the other while enhancing the level of information access when combined.
The Spirituals Database has undergone numerous changes recently, not only with the addition of uniform titles and more descriptive tags to make the search results even more complete, but with extensive changes to the look and functionality of the database overall. Most recently, assessments of "composer not identified" entries and of dialect use for tracks added to The Spirituals Database after Recorded Solo Concert Spirituals, 1916-2022 was submitted for publication have now become accessible and searchable.
Thanks for your continued use of The Spirituals Database! — Randye J.
——
Pinterest Page
There is a Pinterest page of album and label covers at https://www.pinterest.com/singin1/negro-spirituals-album-covers-labels/negro-spirituals/. It's a bit out-of-date presently, but still of interest.
2015-05-17