The What
Since composer and baritone Harry T. Burleigh published the Negro Spiritual, "Deep River," for solo voice in 1916, singers have performed this and similar art songs in concerts, recitals, sacred services, and vocal competitions. For a century, the powerful words and melodies of these American folk songs have proven to be fruitful sources for composers seeking to create music for classically trained vocalists to perform on stage and for recordings.
The Spirituals Database provides searchable information about Negro Spirituals set for the solo voice and recorded on over 6,300 tracks from over 675 sound recordings. Launched in March, 2015, the database is part of The Art of the Concert Spiritual and carries on that project's efforts to discover and share information about the Spiritual's potential role in developing a singer's repertoire.
The project's goal is the eventual publication of a resource on Spiritual art songs that not only includes information available in The Spirituals Database, but identifies important details all too often missing from the recordings themselves.
The resource, entitled Recorded Solo Concert Spirituals, 1916-2022, is scheduled for publication in early 2023. More information about this book is available at http://www.artoftheconcertspiritual.com/recorded-solo-concert-spirituals-1916-2022/.
The Why
The primary–but far from exclusive–audience for The Spirituals Database is the vocalist, the vocal coach/teacher or the accompanist who is looking for these recorded resources. These recordings serve as an opportunity for the singer, voice instructor or other musician to enhance their study of how Spirituals can be performed in a studio, concert, service or competition setting.
Even the composer, music historian, educator, librarian, researcher, or the enthusiast who simply wants to hear these great songs performed will have reason to seek out information about the wide range of recordings–including compact discs, rare or out-of-print long-playing (33 1/3 rpm) and 78 rpm albums, audio cassettes, 45 rpm discs, as well as demonstration recordings from Spirituals music score compilations and commercial recordings available only as streamed digital files–represented in The Spirituals Database.
The criteria used for the selection of recordings for The Spirituals Database is very straightforward:
Commercially produced audio recording that contains at least one selection of a Negro Spiritual
Setting composed in a manner intended for concert performance by a solo vocalist
Recordings may include vocal and/or instrumental accompanying forces–such as chorus, piano, orchestra, guitar, flute, violin, etc.; however, those forces are always secondary to the role of the vocal soloist in the listed performance. Also, the voice type (soprano, mezzo-soprano, contralto, countertenor, tenor, baritone, bass-baritone, bass) of the soloist is included to assist searchers who are looking for recordings by a specific voice type.

Additionally, searchable tags have been added to items to assist those looking for songs categorized under relevant Old and/or New Testament Books of the Bible and under several themes, including Christmas, Easter, Passion, Crucifixion, holiday, Communion, Baptism.
Overall, The Spirituals Database's goal is to support the book, Recorded Solo Concert Spirituals, 1916-2022. Some features in the book are not available on the site. This includes evaluation of the use of dialect in performance and a developing assessment of composers when this information is not included on the recording or resource used (site designation is "Composer not identified")–currently over 300 tracks assessed as Burleigh settings and over 300 assessed as Lawrence Brown's. Book also includes specific Biblical verses rather than solely chapter listing. NOTE: the site is a "living" resource that will continue to grow even beyond the limits of the book. This means that as new recordings are found and added, the new items will be listed as "NIB" (Not in Book). The site will also reflect missing information that has been found beyond the publication of the book.
The Who
Soprano, author, and researcher Randye Jones, the creator and compiler of The Spirituals Database, holds her Bachelor of Arts degree in Music Education from Bennett College in Greensboro, North Carolina, and her Master of Music degree in Vocal Performance from the Florida State University, Tallahassee. She has had additional graduate study in Vocal Literature at the University of Iowa in Iowa City.
Jones is author of two books. The first, So You Want to Sing Spirituals, was published in 2019 by Rowman & Littlefield as part of the National Association of Teachers of Singing's So You Want to Sing series. The book provides a comprehensive introduction to the history and performance of this rich and diverse musical style. Jones and contributing authors explored spirituals' folk song roots and the music's transformation to choral and solo vocal concert repertoire.
The second book is a compilation entitled Recorded Solo Concert Spirituals, 1916 to 2022, which is scheduled to be published by McFarland and Co. in early 2023. The project documents over 5,000 commercially produced recording tracks of Negro spirituals composed for solo concert vocalists. More information about both books is available at http://www.artoftheconcertspiritual.com.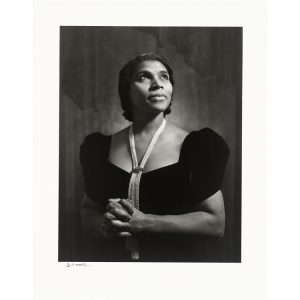 Jones has gained recognition for her research of and published writings on African American vocalists and composers and as a performer and lecturer through her projects, The Art of the Concert Spiritual and Afrocentric Voices in "Classical" Music, as well as her past work through her online broadcast stations, Afrocentric Voices Radio and Afrocentric Sounds.
Additional writing projects include essays on tenor Roland Hayes' 1940 recording, "Were You There," and contralto Marian Anderson's 1956 release of the spiritual, "He's Got the Whole World in His Hands, which were selected for the Library of Congress' National Recording Registry in 2013 (direct link to Were You There-Hayes Essay for Library of Congress NRR .pdf file) and 2003 (direct link to He's Got the Whole World in His Hands-Anderson Essay for Library of Congress NRR .pdf file) respectively.

In addition to her activities as a singer and lecturer in the United States, Jones has presented at the National Association of Negro Musicians (NANM); at the Research, Education, Activism, and Performance (REAP) National Conference on Spirituals; for the Harry T. Burleigh Society, the Tennessee Chapter of NATS, the African American Art Song Alliance (AAASA) and the Music Library Association (MLA) conferences. She was interviewed for the Australian Broadcasting Corporation's 2016 documentary, Spirituals: The Foundation of Popular Music.
Of the honors for her work, Jones most recently received the 2022 MLA Citation for a lifetime of contributions to the research of the Negro spiritual and advocacy of paraprofessional member participation within the organization and AAASA's 2022 Willis C. Patterson Research Award.
Jones brings more than 30 years of library experience–including her current position as the media collections coordinator for the libraries at Grinnell College, Grinnell, Iowa–to the task of maintaining The Spirituals Database.
More information is available at http://randyejones.com.